Illinois Sheriffs' Association
As an organization of peace officers, supported by more than 40,000 citizens and business leaders who make up our membership. Our highest priority is to protect lives, property, and to make communities safer places to live, work and raise our children.
Youth Outreach
We believe our youth is the key to the future.
Videos
Law Enforcement Heroes, Behind the Badge, Body/Dash Cam Footage, and more
Training
Together, the Illinois Sheriffs' Association is making progress in the right direction by providing our Peace Officers with the resources they need.

Sign Up to Keep in Touch!
Get ISA news right in your inbox.
The ISA started the Preferred Vendor Program in 2018 with just a few companies. As of 2023 the program has expanded rapidly and includes 13 dedicated companies across the nation. We thank you for your support!
2023 DIAMOND ELITE 
COMBINED PUBLIC COMMUNICATIONS /  ICRMT  /  Bi2 TECHNOLOGIES  /  AMERESCO  /
`
2023 DIAMOND
HOMEWAV  /  STELLAR SERVICES, LLC.  /  THE SHERIFF APP.COM  
`
2023 PLATINUM 
OFFENDERWATCH  /  HEALTH MANAGEMENT ASSOCIATES  /  HERSCHEL'S SUPPLY w/ ECIGS4INMATES / INDIVIOR / ILLINOIS PUBLIC RISK FUND
`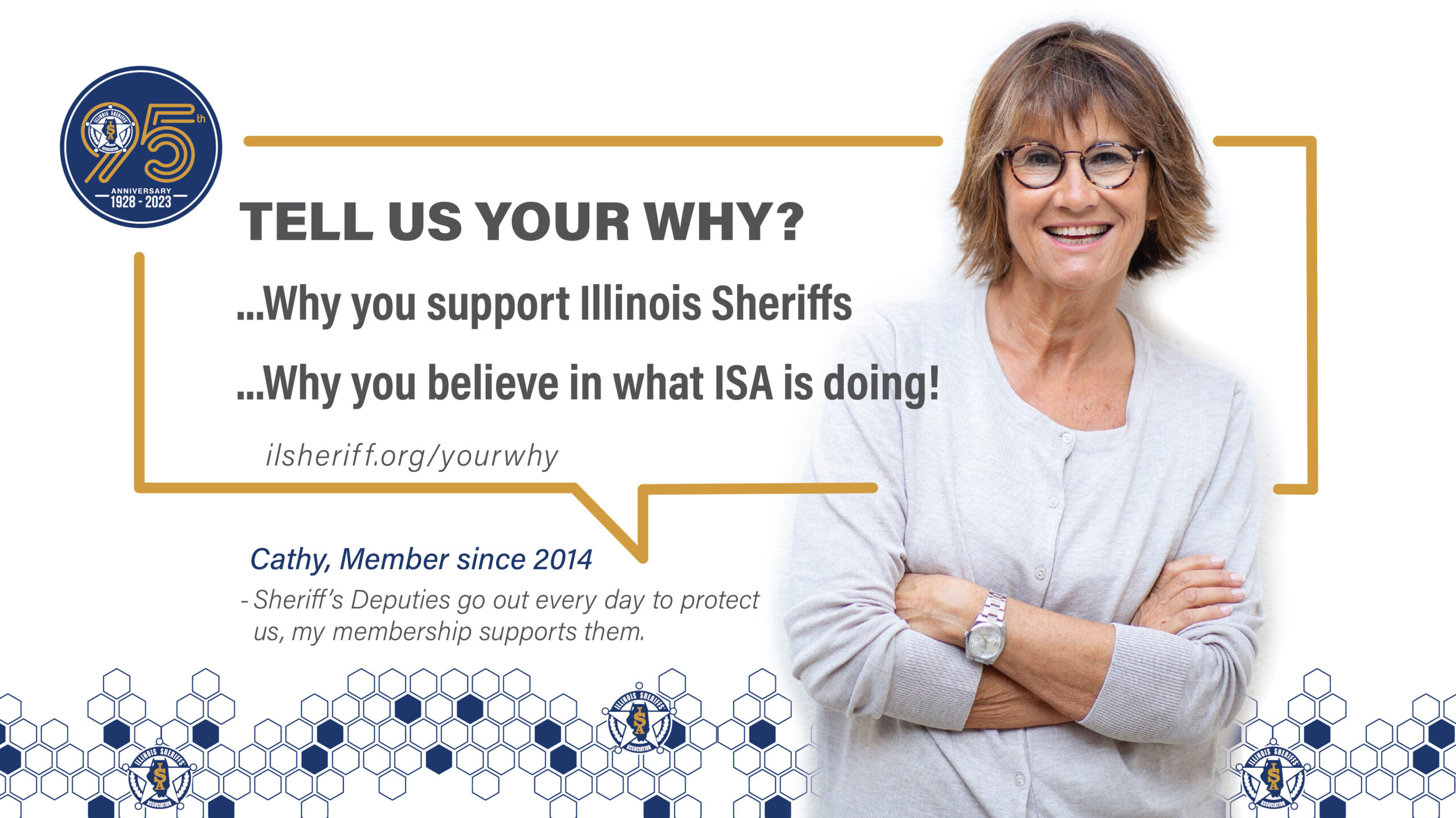 "Submit a testimonial to tell us your "WHY?" We want to hear from you on why you support Illinois Sheriffs? Why you believe in the mission of the Illinois Sheriffs' Association and why you feel our Citizen Memberships are important?"
Submit Your Why!
2022 Service Award Winners
Honoring those with great courage, commitment, and sacrifice.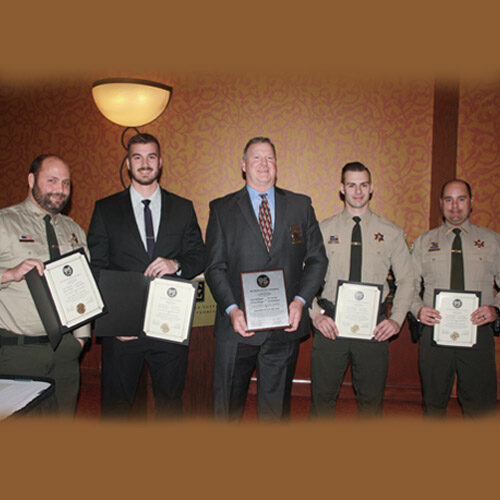 Lee County Deputies Nathan Hollinger, Joe Presley, Kolton Morgan, and Sgt. Derek Ranken were awarded the Illinois Sheriffs' Association, 2022 Deputies of the Year in recognition for their heroic actions while placing themselves in grave danger.At 12:56am, on December 22, 2021, the Lee County Sheriff's Office received a call regarding a 3-year-old that was missing from his home in Harmon, IL. The night shift, consisting of Sgt. Derek Ranken, Deputies Joseph Presley, Kolton Morgan and Nathan Hollinger immediately responded to the area. Upon arrival, Deputies began interviewing the father of the child. Not only were they searching for a small child, but the child was last seen wearing only a diaper and the temperature that morning was 17 degree F.Deputies searched the immediate area, as well as the home, extensively. The search area broadened, utilizing responding resources from Lee County Search and Rescue, Dixon PD Officers and their K-9 unit as well as State Police.At approximately 2:37 am, Deputy Morgan located the boy, naked, laying face down near a ditch on the east side of town. Deputy Morgan wrapped the toddler in his jacket, then handed him to Deputy Hollinger, so he could get some blankets from his squad car. The child was unresponsive at the time. It is believed that he was exposed to the elements unclothed, for approximately 2 hours!There was no time to wait for EMS, Sgt. Ranken, Deputies Morgan and Hollinger had to transport the child to KSB Hospital in Deputy Morgan's squad car. This part of Lee County is remote, with no ambulance service in proximity. Considering the condition of the child, this was the absolute correct decision.Deputy Presley was the lead car, ensuring safe passage along the route to the hospital. While enroute, Deputy Hollinger performed CPR on the child twice, which resulted in the child reacting positively. Dixon City PD were at the city limits and assisted with traffic control as the Deputies rushed to the hospital.Upon arrival at KSB, waiting nurses and doctors performed CPR, while also using the AED approximately four times, as the child coded. Eventually, all efforts were successful, and the child regained consciousness. He was subsequently stabilized and transported, via helicopter, to St. Frances in Peoria for further treatment.Statements made by the attending ER personnel at KSB Hospital summarize this best – "the quick actions and decision-making by on-scene personnel, rapid transport to the hospital, warming the child and performing CPR while enroute, saved this child's life.""I cannot adequately express my gratitude and pride in knowing how exemplary our personnel responded and performed that morning. This was an outstanding team effort by all involved. Their quick action, decision-making, coordination, and response to this incident, provided us the best opportunity for a successful outcome." –Sheriff John C. Simonton, retired Lee County Sheriff.The new sitting Sheriff, Clay Whelan was present at the ISA Awards Ceremony with these fine deputies and presented their plaques and gave testimony to this heroic event. "I am extremely proud to be a part of this team and work alongside these deputies!" – stated Sheriff Clay Whelan, Lee County Sheriff.The Illinois Sheriffs' Association, and the Executive Board, would like to thank Deputies Nathan Hollinger, Joe Presley, Kolton Morgan, and Sgt. Derek Ranken for their heroic actions and dedication to their profession, the citizens of Lee County and the State of Illinois.###LEE COUNTY SHERIFF'S OFFICE: 815.284.5217For More Info: www.ilsheriff.org
2022 Deputies of the Year
Chief Deputy Derek Ranken, Deputy Kolton Morgan, Deputy Nathan Hollinger & Deputy Joe Presley, Lee County Sheriff's Office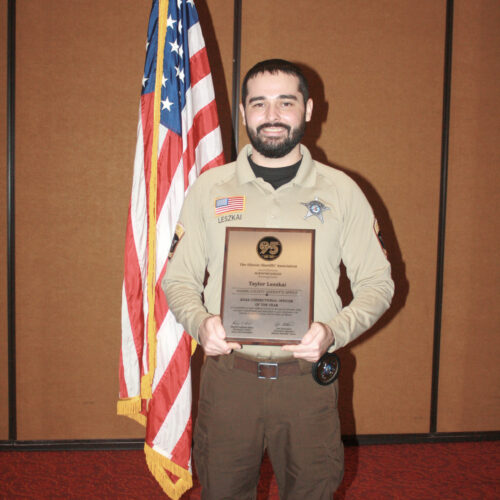 Adams County Correctional Officer Taylor Leszkai was awarded the Illinois Sheriffs' Association, 2022 Correctional Officer of the Year in recognition for his above and beyond work ethic and his selfless actions in the face of extreme crisis.Correctional Officer Leszkai started with the Adams County Sheriff's Office in December of 2020. Since that time, he has shown tremendous initiative to complete his training as a Certified County Correctional Officer in the State of Illinois.He recognized a gap in services for recruiting new correctional officers and deputies, so he volunteered to attend community events to capture footage, along with training exercises and he spent hours editing film to create the Adams County Sheriff's Office department recruiting video that is utilized today.Officer Leszkai asked if he could be a part of the committee to improve the Field Training Officer (FTO) Program for the jail. He quickly stepped up to be the FTO Coordinator and continues to manage the program.On January 2, 2022, Officer Leszkai quickly responded to the female holding area where an inmate was hanging herself with the telephone cord. Officer Leszkai quickly acted to pick her up and release the tension on the cord around her neck, which ultimately saved her life!On October 21, 2022, Officer Leszkai investigated possible criminal activity that may have involved inmates and a county employee. Officer Leszkai alerted investigators of the possible activity and provided the investigators with information for possible criminal charges."Officer Leszkai's strong work ethic and desire to improve the operations of the Adams County jail not only helps provide for safety of our citizens, but also serves as an example to other officers." – stated Sheriff Tony Grootens, Adams County Sheriff.The Illinois Sheriffs' Association, and the Executive Board, would like to thank Correctional Officer Leszkai for his heroic actions and dedication to his profession, the citizens of Adams County and the State of Illinois.###ADAMS COUNTY SHERIFF'S OFFICE: 217.277.2206For More Info: www.ilsheriff.org
2022 Correctional Officer of the Year
CO Taylor Leszkai, Adams County Sheriff's Office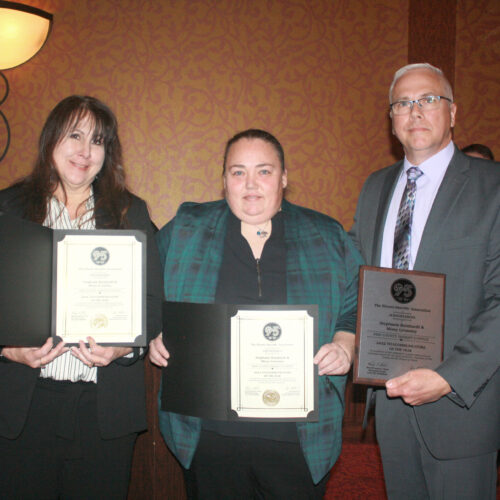 Pike County 911 Supervisor, Stephanie Reinhardt, with Pike County Sheriff's Office for 32 years and 911 Dispatcher Missy Grimsley, with Pike County Sheriff's Office for 5 years, were awarded the Illinois Sheriffs' Association, 2022 Telecommunicators of the Year in recognition for their dedication to public safety and their continued concern for the safety of all first responders.On March 26th, 2022, Pike County 911 Dispatchers were ready at the helm when Pike County deputies reported a pursuit of a vehicle that fled a traffic stop. Meredosia Police Officer (Steve Lowry) also serves as a full-time Pike County Sheriff's Deputy was first on scene at the traffic stop, Deputy Lowry observed the driver with a firearm, and he was refusing to follow commands from Deputy Lowry.The next step for dispatchers was to get other officers from Pike County on their way to assist Deputy Lowry. Missy Grimsley picks up that call, and now her entire concentration moving forward is with that call. Supervisor Reinhardt was the other 911 Dispatcher on duty that night, overhearing everything that was happening.Telecommunicator Reinhardt stated that you "just do it, you don't stop to think, and just make sure that everybody is contacted that needs to be involved and stay on standby to assist." She went on to say that everyone works so well together, just like on this call that first came in from Morgan County, they didn't even realize at that time that it was one of their Pike County Deputies, working part-time for Morgan County that was involved… by the time all the radio transmissions come through they realize they have three officers involved with this intense situation. Then they have to contact Brown County as the pursuit travels near and through, to enlist their help, so they now have three counties working together in addition to IDOT closing the road and State Police who have joined the pursuit!The pursuit traveled into Chambersburg then back to Meredosia and back into Pike County. While back in Meredosia, Chapin Police Chief Steve Helmich got involved in the pursuit. Approximately 25-30 miles into the chase, four miles north of the Pike/Brown County line, the vehicle being pursued crashed into a guardrail and careened further northbound coming to a stop, sideways in the roadway.Deputies approach the crashed vehicle, assailant exits the vehicle, and begins shooting at Chief Helmrich, with the Chief bolding returning fire. Pike County Deputies call out to dispatch at the assailant has a gun. Dispatcher Grimsley now has to assume all scenarios and think of everything in order to assist the officers' next needs.Deputy Lambeth calls in that officer down, send EMS. Not knowing which officer was down… The dispatchers didn't know how serious the injuries were and stated they didn't have a lot of time to think about it, they just reacted to each new update with their next round of assistance.Deputy Lowry observed Chief Helmich go down after being shot, and disregarding his own safety, with his firearm drawn, pulled Chief Helmich to a safe location near a police vehicle. Simultaneously, Deputy Lambeth, going towards the gunfire without regards for his own safety, returned fire to Payne, Deputy Lambeth assisted in tending to Chief Helmich's injuries with Deputy Williams applying his tourniquet to the leg of Chief Helmich, replacing a dog leash that was initially used as the tourniquet.While Deputy Lambeth and Williams were tending to Chief Helmich, Deputy Lowry and Brown County Deputy Rusty Richard, who was also on scene, were able to take the assailant into custody without further incident.What happens when that call is over, how do the dispatchers handle the overwhelming adrenaline and stress of being part of the situation? 911 Supervisor Reinhardt stated that they talked about the entire ordeal. They were able to talk to their officers on the phone once they had taken the assailant into custody. She called the Brown County dispatcher who happened to be a sister of Pike County Deputy Lambeth to make sure she was doing ok.Reinhardt and Grimsley can breathe when this call is final, all their deputies and citizens of all three counties are safe, and their jobs give them joy knowing they contributed to the positive outcome."Sheriff's Deputies and Police Officers are not alone during incidents such as these. On this evening, these tremendous dispatchers were on duty, professionally completing their tasks as Telecommunicators, communicating with the Officers and dispatching needed services at the right times to bring this incident to a conclusion. 911 Dispatchers are the unsung heroes who usually do not get their rightful recognition." – states Sheriff David Greenwood, Pike County.The Illinois Sheriffs' Association, and the Executive Board, would like to thank Telecommunicators Stephanie Reinhardt & Missy Grimsley for their heroic actions and dedication to their profession, the citizens of Pike County and the State of Illinois.###PIKE COUNTY SHERIFF'S OFFICE: 217.285.5011For More Info: www.ilsheriff.org
2022 Telecommunicators of the Year
911 Supervisor, Stephanie Reinhardt and 911 Dispatcher Missy Grimsley