CORPORATE PARTNERSHIP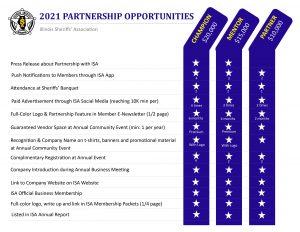 Partnering with the ISA will allow us to increase training opportunities and provide much needed equipment for our Sheriffs, Deputies and Jail Administrators. Your partnership also enables the ISA to award scholarships to high school students, educate our youth on drug-free living and provide top-notch legislative representation in Illinois to keep you & your family safe.
ISA announced it's new phone app in 2020 (Apple & Android). As a Corporate Partner, you have the opportunity to push ads directly to our members through the app.
ISA's social media advertising is through Facebook and Instagram. We pledge to reach no less than 10,000 Illinois citizens with each ad posted.
Our E-Newsletter currently reaches over 10,000 members and grows monthly.
Our 2021 Annual Community Event is "We Run Blue" – a 5K with vendors/children's area to be held in October in Springfield, IL.  Exact date TBA.
All donations are tax-deductible.